I'm baaaaaaaaaack. Okay, the blog has been slow lately. It has been busy, busy, busy over here. We sincerely apologize. BUT HARK, we come back to you with a huge giveaway sponsored by the lovely, lovely people at
Macmillan
.
Since I, Emily, am so cool and have fabulous interview questions and am a genuinely awesome human being (this is me being humble and gracious), I received a request from Macmillan to do another recap of a Fierce Reads signing. This one was at the coolest children's bookstore that I have ever been to,
Cover-to-Cover Children's Bookstore
. They have authors who do discussions and signing there sign the walls! Isn't that cool?
Image Credit: Cover to Cover's Website
One wall signed by visiting authors
The authors apart of this tour were
Gennifer Albin
, author of
Crewel
, book one in
the Crewel World series
,
Leigh Bardugo
, author of
Shadow and Bone
, book one in
the Grisha series
,
Caragh M O'Brien
, author of
Promised
, book three in
the Birthmarked series
and
Marie Rutkoski
, author of
The Shadow Society.
So... let's move forward:
Interview with the Authors
1. How would you describe your books?
Gennifer Albin: Everything is woven, in Crewel. Time is goes through a loom. Everything is part of the fabric of life. My series took that phrase to the extreme. All 16-year-olds have to go be tested to see if they can work at the loom. My main character's parents have trained her her whole life to fail the test. But she didn't fail and has woven a moment. She is swept away to join the spinsters where they weave the world from a tower. The guild, an all male government controls them. Crewel is fierce because it sounds like a fantasy novel, but is actually science fiction.
Leigh Bardugo: Darkness is usually metaphorical. Darkness in Shadow and Bone is a place that is crawling with monsters that feed on human flesh. The country of Ravka, which is where the novel is set, is being left behind and their trade route is cut off because of the darkness. The main character is a loner, a refugee, and not good at her job. During an attack, Alina, the main character, reveals a power and wisked away to join the Darkling and the other Grisha. Shadow and Bone is fierce because of the setting - it was inspired by Tsarist Russia.
Caragh M O'Brien: Birthmarked is about a teen midwife, who has to turn in babies to authorities into the other side of the wall. It is set in the future. Those inside the wall have technology. Outsiders are impoverish. The main character's parents are arrested. Gaia, the main character, spends the book trying to save them. It gets quite dark. In Prized, book two, Gaia goes to another society, where men outnumber women nine-to-one, but the women are the ones in control. In that society, you aren't supposed to touch the other sex, and kissing is a crime. No girl babies being born there and anyone that leaves dies. In Promised, Gaia returns to other society, where the people have been experimenting on mothers. Gaia brings refugees from the other society. It's very gnarly and dark.
Marie Rutkoski: The Shadow Society is about a girl who doesn't know she's not human. She discovers that she belongs in an alternate world where the Great Chicago Fire didn't happen and her people weren't wiped out. Shades, her people, are dangerous - they can become incorporeal at will. Darcy is a fierce character because she allows herself to be touched, when shades don't and she also allows herself to open up emotionally to others.
The author panel and some of the audience
2. Do you prefer to use a pen(cil) and paper or a computer to write?
GA:
I use a computer for drafting, but I have notes everywhere, that are just scattered.
LB:
Mostly computer for drafting.
CB:
Computer.
MR:
I sketch out scenes and fragments on paper, but I write on my computer.
3. What does your writing (typing) space look like?
GA:
I have a lovely office with a rug, desk, two armchairs, but I never write there. I usually write at a table for four at Starbucks.
LB:
I draft in cafés. I like the noise, but I write stories and books in my grandfather's old leather chair. (As Leigh explained this, the other authors and I found this romantic. Leigh laughed about that.)
CO:
I write on my couch and then in the afternoon, I write on my other couch. As the day progresses, I follow the couches.
MR:
I can't write in public. I must be able to close a door. I usually write in the corner of my bedroom with my desk against the wall, though at the moment, I'm living in Paris and writing in a beautiful office.
4. What is the most memorable line that you've ever written?
GA:
Mine is from a book that's in progress. The line is describing a building covered cast-iron meeting with the heavens. I keep thinking, someday I'll come back to this!
LB:
"The woods were silent in their grief."
CO:
My favorite line is always the next line that I'm going to write. (We all thought this was a really profound sentence. I still do!)
MR:
My favorite line is in my next project, that I'm not allowed to share.
Caragh O'Brien, author of Promised
5. When you first found out that you were being published, what was your reaction?
GA:
I came home and told my husband. I got the call in the car in Kansas, in the middle of nowhere. I was very detached. It just felt so surreal.
LB:
I made a "bleet"-ing noise in Whole Foods. I found out about my first offer while I was Thanksgiving shopping. The noise was somewhere between a shriek and a yelp.
CO:
I danced around my kitchen and screamed. I couldn't believe it!
MR:
I gave myself a gift. I bought the whole series of
Buffy the Vampire Slayer
and watched every episode.
Leigh Bardugo, author of Shadow and Bone
6. What are you working on now book-wise?
GA:
The Crewel World Trilogy, though others are marinating.
LB:
Ruin and Rising, which the the third and final installment in the Grisha Trilogy.
CO:
I'm working on a new Young Adult sci-fi series.
MR:
I'm working on a new book called
The Winner's Curse
. It's about an aristocratic member, who is the main character. It has duels balls and a brewing rebellion. (I asked about attractive men and she assured me that they were included.)
7. If you could choose a character from one of your novels to be friends with, who would you choose and why?
GA:
Loricel. She's my kind of lady - strong, tough, says what's on her mind. I admire older ladies who kick ass.
LB:
Stermhand. He's from the second book. (I thought she would say Darkling - but only because she had this evil look on her face! Her reply, "No, no, no. That friendship would be like, 'Someone stole my parking spot, cut him in half!'")
CO:
Gaia, because I want to be like her when I grow up. She's a great friend - loyal, smart and brave.
MR:
I'd like to be friends with the whole gang of friends in The Shadow Society: Jims, Darcy, Lily and Raphael.
8. What's a book that you think is underrated?
GA:
Maria
by
Mary Wollstonecraft
LB:
Fleur by
Louise Eldrich
or
Love Medicine
by
Louise Eldrich
CO:
Something Like Normal
by
Trish Doller
MR:
I am going to say books that more people need to read:
Chime
by
Franny Billingsly
and
The Returning
by
Christine Hinwood
9. Is there a book that you would unread, so that you could experience it again for the first time?
GA:
Harry Potter
by
JK Rowling
, or
Anne of Green Gables
by
LM Montgomery
LB:
The Country Life
by
Rachel Cusk
CO:
Pride and Prejudice
by
Jane Austen
MR:
The Queen of Attolia
by
Megan Whalen Turner
(Then we discussed how freaking awesome Megan Whalen Turner is and how she lives in Columbus, OH somewhere. I WANT TO MEET HER, GUYS.)
Marie Rutkoski, author of The Shadow Society
10. If you could meet any author dead or alive, who would it be and what would you do?
GA:
JK Rowling
. We'd have a sleepover where we braid our hair and become best friends.
LB:
(She had a lot of trouble with this one.)
Dianna Wynne Jones
, we'd go to a bookstore together. Or a young
Hemingway
because he's hot. (Gennifer said that's he's completely crazy and Leigh replied, "But I don't have to marry him!")
CO:
Jack London
. We'd walk around his old home in California.
MR:
I wanna pick somebody dead. (We all laughed at that.) Probably
Shakespeare
because I'm a professor and a Shakespearean. We'd go to the tavern with all of the writers.
11. What are you reading right now, or what will you be reading when you have the time next?
GA:
The Diviners
by
Libba Bray
LB:
The Magicians
by
Lev Grossman
CO:
The Shadow Society
, then
The Children of Men
by
PD James
(We discussed the movie and book then - I have not read it, but now I've been told I must read it and watch the movie.)
MR:
Persuasion
by
Jane Austen
12. What 2013 book release are you most looking forward to?
GA:
Landry Park
by
Bethany Hagan
LB:
Prophecy
by
Ellen Oh
CO:
Passed on this question - she couldn't think of one.
MR:
Whatever
Holly Black
is releasing and
Dracomachia
, the
Seraphina
sequel
13. What's your favorite Halloween creature?
GA:
Dr. Frank-N-Furter (From
The Rocky Horror Picture Show
)
LB:
A dire wolf
CO:
A bat
MR:
A witch
Gennifer Albin, author of Crewel
14. What's a place you haven't been to, but have always wanted to go?
GA:
Everywhere - all over the world
LB:
Russia
CO:
The Dawson Trail in the Yukon (She's a big Jack London fan! She finds him extremely fascinating.)
MR:
Angkor Wat, Cambodia
15. Name a celebrity that has your undying affection.
GA:
JK Rowling
LB:
Joss Whedon
CO:
Billy Collins
MR:
JK Rowling
Tidbits from the discussion:
*
Gennifer
's favorite character to write was also the hardest: Cormac Patton, who is the villain of the story. Some people say, "he's vile," and others say "DOES HE HAVE TO BE BAD?" because he respects the main character. He's compulsively clad in a tux - Leigh mentioned a scene from 30 Rock with Alec Baldwin about tuxedos: "WHAT ARE WE, PEASANTS?"
Tux jokes never get old.
*Gennifer has a masters in english literature.
*Gennifer went to grad school because she wanted to learn more.
*Gennifer and Leigh "murder trees together" with all of the paper they use. Worst gang of all time because they *JUST KILL TREES*!
*The arc of character development is Leigh's favorite part.
*If Leigh could be an animal, she'd be a dire wolf.
*Leigh's beta readers were a tv writer and a academic writer.
*Leigh didn't go to grad school, and doesn't consider herself an academic. She was an English major. If she hadn't been an English major, she would've been a History major.
*Leigh's best advice read out of genre.
*The Darkling was the hardest character to write for Leigh because he is so unknown to others, and so controlled that it was difficult to write. Her favorite is Stermhand, who is privateer from book two and is so fun. He has a way of taking things over.
*Caragh REALLY likes Wolverine from X-Men.
*Leon, was the hardest character from Caragh to write. There was one scene where he just walked away from her because he was so mad with Gaia at one point in book two. "How do I get him to have an argument when he walked away?" She said she had to get as angry as the characters.
*Caragh didn't write Birthmarked as a trilogy original because she didn't plan to publish. She didn't know it would be a trilogy until Macmillan offered her a three book deal. Her agent always tells her, "If everyone else has faith in you, why don't you have faith in yourself?"
*Marie was closest to Darcy. They both grew up in the suburbs of Chicago. She drew on her own experience from growing up in Chicago while writing.
*Marie says The Shadow Society is not just a love story between Darcy and Conn, but also love for a city and love of friends.
*Maries's favorite character to write was a secondary character, Jims, who is a friend of Darcy. He likes roleplaying games and is super confident.
*Marie is outlining for her new series. She says that outlining is liberating and inspiration, which is suprising because you have to keep a timeline. She didn't know you could keep inspiration while writing that way.
*Marie finds it helpful to read her book in a different formats - on kindle, different font. Something about seeing it in a different form helps her see parts to edit easier.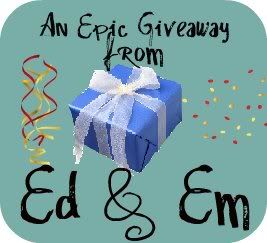 Giveaway Details:
- One winner will receive all signed copies of
Crewel
by Gennifer Albin,
Shadow and Bone
by Leigh Bardugo,
Birthmarked
,
Prized
and
Promised
by Caragh M O'Brien and
The Shadow Society
by Marie Rutkoski
- Open US/CAN
- One enterant per household
- Cheating results in immediate disqualification
- Ends 11/15/2012
a Rafflecopter giveaway