The blurb as seen on
Goodreads
: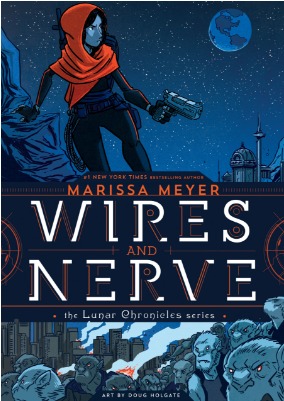 Release Date: January 31, 2017
Publisher: Feiwel & Friends
240 Pages
In her first graphic novel, #1 New York Times and USA Today bestseller Marissa Meyer follows Iko, the beloved android from the Lunar Chronicles, on a dangerous and romantic new adventure -- with a little help from Cinder and the Lunar team.

In her first graphic novel, bestselling author Marissa Meyer extends the world of the Lunar Chronicles with a brand-new, action-packed story about Iko, the android with a heart of (mechanized) gold. When rogue packs of wolf-hybrid soldiers threaten the tenuous peace alliance between Earth and Luna, Iko takes it upon herself to hunt down the soldiers' leader. She is soon working with a handsome royal guard who forces her to question everything she knows about love, loyalty, and her own humanity. With appearances by Cinder and the rest of the Rampion crew, this is a must-have for fans of the bestselling series.
This was cute.

It's no secret that I love the Lunar Chronicles and this world the Meyer built. So of course, I hit that preorder button on Amazon faster than Usain Bolt crossing that finish line when this book popped up. I don't really know what I was expecting when I went in - most likely more adorable interactions with my faves - but what I got was Iko: Super Spy. And it was okay.

Wires and Nerves takes place after Winter with Lunar and Earth trying to come to a trustworthy alliance. Cinder is on the verge of abdicating her throne in favor of a more republic government but before she can do that, she must eradicate the rogue lunar soldiers still hiding out on Earth. With the Earthern people still wary of Lunars and unwilling to accept help, Cinder sends Iko to track down these packs and bring them back to Luna.

I really enjoyed getting to see everyone again and see how they are adapting to their new roles. And while we did get to see everyone, I was a little let down by the whole thing. First with Iko. Now I love Iko. Throughout the series she was always a constant source of humor, love, and bravery. And while I enjoyed reading a whole book from her point of view, I feel that she works better as a side character. It's not that she's not interesting, because she is. But I don't know if holding her own was the best thing.

The story itself was good but still felt a little lacking. I think this is because I'm so used to Meyer's descriptive writing and we didn't get that here since it was a graphic novel and I missed those little touches. Because of this parts of the story felt rushed and the characters played differently off of each other.

Lastly was the artwork itself. I wasn't too impressed. It felt a little childish considering the themes. With so much fan art out there, I think I got spoiled seeing other people's interpretations of the characters. And was I the only one a little creeped out by the Wolf and Scarlet drawings? I mean, I get that he's named Wolf for a reason, but I never pictured him that wolfish. It was just weird to me.

That being said, I'm sad we have to wait until next year to get the continuation. Because let's be honest, there's no way I'm not going to read anything Meyer puts out.