The blurb as seen on
Goodreads
:
Release Date: January 13, 2015
Publisher: Putnam Juvenille
336 Pages
To fight her destiny as the missing heir to a powerful and dangerous secret society, sixteen-year-old Avery West must solve an ancient puzzle in a deadly race across Europe. Forbidden love and code-breaking, masked balls and explosions, destiny and dark secrets collide in this romantic thriller.

Avery West's newfound family can shut down Prada at the Champs-Elysees when they want to shop in peace, and can just as easily order a bombing when they want to start a war.

They are part of a powerful and dangerous secret society called the Circle of Twelve, and Avery is their missing heir. If they discover who she is, some of them will want to use her as a pawn. Some will want her dead.

To thwart their plans, Avery must follow a trail of clues from the landmarks of Paris to the back alleys of Istanbul and through a web of ancient legends and lies. And unless she can stay one step ahead of beautiful, volatile Stellan, who knows she's more than she seems, and can decide whether to trust mysterious, magnetic Jack, she may be doomed after all.
I would describe this book as the DaVinci Code for teens. Avery West is you typical high school student - well, except she constantly moves around thanks to her mother's job and therefore sees no point in making lasting friendships or relationships of any kind. Other than that, she's friendly to those friendly to her and also manages to enjoy a life of solitude with only her mom since her dad left when she was a baby and she has no other family to speak of. But Avery isn't the only new kid this time. There's also Jack- the mysterious brooding, sometimes 'I have an English accent but only when I'm talking secretively on my cell phone', hot boy. When Avery finds out that Jack has been carrying around her picture - she first thinks stalker but then thinks crush maybe? Avery isn't so bright in this book, just saying.

On the night of her prom, Avery is confronted by both Jack and the mysterious Stellan (who appeared out of nowhere) - both boys are wanting to take her away (like kidnap). With the promise of meeting her long lost family, Avery hops on a place to Paris with stranger Stellan.
I told you she's not too bright. I mean, who does that???

Anyway, along the way she finds out that her father was part of this powerful secret society dating back to Alexander the Great. This society is responsible for every major event in history but their power is dwindling in this new age world. Their hope lies in a prophesy that talks about 'The One' who will marry the girl with violet eyes. Guess what? I'm sure you guessed it. Avery has violet eyes (though she covers them with contacts because who has violet eyes?). But why? Who is she? Is she the one prohesized to save them all even though there's another baby girl with violet eyes about to be born?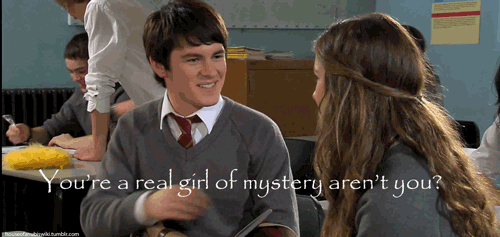 I struggled with the beginning of the book. Avery, especially. She literally had no clue about anything or thought about the consequences. I get that she wants to know about her father and the chance that she has family out there is astounding to her. But I also feel that someone over the age of 15 would question these things - not just jump on a plane to Paris. And this isn't the only reckless thing she does. She is constantly just taking every ones word at face value, not questioning anything until after she's in trouble.

About around the halfway mark, the book picks up. This is when the DaVinci Code factor comes in. Avery and Jack are running around Europe chasing clues left by Jack's mentor hoping to uncover some ancient secret. This was fun. I loved the history and the locations. This saved the book and it's also when I felt the author came into the story.

The story ends on a cliffhanger which has me wanting to read the second one because now, I'm invested. I mean, secrets were revealed! Plots were unearthed! Prophecies coming true and 'The One' revealed! But what will this mean for Avery? And can her and Jack prove what they've just found out? With a bunch of power hungry families wanting to tie themselves to ultimate power, logic and reason are out the window. And what about 'The One'? Will he actually save them or damn them all?