The blurb as seen on
Goodreads
:
Release Date: December 5, 2016
Publisher: Entangled Teen
Five irresistible guys…five unforgettable romances

Step backstage with the guys of Seconds to Juliet—the hottest boy band to hit the scene in years—and the girls who capture their hearts. Superstardom has never been so sexy…

Join the fandom. Just click the button.

Aimee and the Heartthrob by Ophelia London
Mia and the Bad Boy by Lisa Burstein
Daisy and the Front Man by Rebekah L. Purdy

Anya and the Shy Guy by Suze Winegardner
Abby and the Cute One by Erin Butler
Since this is a 5 book compilation, I will be reviewing each book individually and then giving a total rating at the bottom.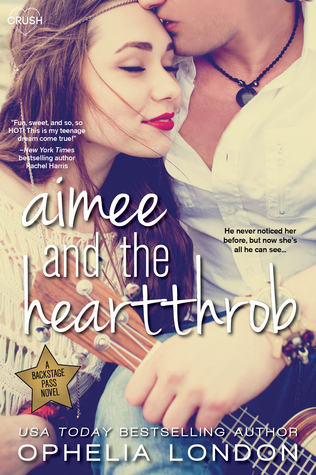 This was absolutely adorable.

Aimee has had a crush on Miles Carlisle since she was a kid. But after learning from her brother that Miles used to make fun of her for following them around, she stopped him cold turkey. But it's kind of hard to avoid someone who is:

a. her brother's best friend, and
b. a member of the hottest boy band on the music scene - Seconds to Juliet

When her brother gets an internship to help S2J on the road, he jumps at it, and because of unforeseen circumstances, Aimee is brought along for the ride.

Miles hasn't seen Aimee in a few years. so it's no surprise that he doesn't recognize her when he first sees her. But once he does, it doesn't matter anyway because best friends' little sisters are off limits. Especially to guys like him who aren't looking for relationships after having previously been burned...twice.

Band books are one of my weaknesses. I love them. Throw in the fact that Miles is British and insert swoon here. Old crushes are rekindled, secrets are revealed, and older brothers are out for blood. Drama, music, and romance. If those sound like things you enjoy, then I'm sure you would gobble this up.
3 Stars
I didn't like this one as much as I've liked others in this series and I think that's mostly due to pacing.

When Mia gets hired as a tutor to a member of her favorite band, she thinks it's the best thing ever. However, once she meets Ryder, she discovers that his bad boy image just means he's an asshole. As 1/5 of the hottest boy band around, Ryder can't afford to let people in. When he decides to step up and get his GED, he wants to do so in secret. Hire a tutor, have her pretend to be his girlfriend, get his GED, leave said boy band to study music at a prestigious school. Easy, right?

Wrong.

Instantly Ryder is attracted to Mia. She's spunky, doesn't put up with his shit, and smart. I'm all for instant attraction, so at least there wasn't insta love. However, the rate at which the romance progressed was extremely fast - like pages, not chapters. I get for such a short book that the author had to move the story along, but since it's contemporary fiction, make it at least believable.

This was riding at a solid two stars for me - just because I didn't feel a connection with anyone, but I bumped it up to three because of the grand gesture at the end. I'm a sucker for those type of things.
3 Stars
Daisy wins the ultimate teen dream - her favorite pop star, Trevin, is going to take her to Homecoming. She's over the moon until she gets stood up - in front of the media and everyone in town. Fuming, she starts planning her revenge. She finally gets her chance when she's forced to spend the summer with her father, who just happens to be Seconds to Juliet's main bodyguard. Trevin is in her sights, now she just need to find a way to humiliate him like he did her.

Meanwhile, Trevin has no idea why his bodyguard's daughter hates him immediately. So he makes a bet with a fellow bandmate that he can get Daisy to fall for him. Obviously this is a good idea. Not.

This book had it's cutesy moments and I liked Trevin for the most part. But I had issues with Daisy. While I get that her fangirl heart was broken, why not confront him and ask what happened? No, instead she sulks that he doesn't remember her or what happened. I don't know. Maybe I'm just being too harsh on her, but I felt that she was extremely childish about the entire situation. And her revenge plan? Make him fall for her to crush him later...how does this make you a better person?

I think Trevin can do better, but eh...

3 Stars
Anya Anderson hasn't had the best life. She's been homeless since she was a kid, bouncing in and out of shelters just trying to survive. After publishing an article on homelessness, she gets a job touring with the hottest boy band in the industry. She has one job, follow Will Fray around and find out some interesting dirt. All she has to do is keep her own secrets and find out Will's. That turns out to be easier said than done.

Will Fray isn't...well, he isn't Will Fray. His name is Matt and he's Will's twin brother. Matt is covering for his twin while Will is in rehab. No one besides one other band member know this and the last thing Matt needs is some reporter poking around trying to find his deepest secrets. His goal: Keep Anya away from anything too personal.

This is the fourth in a series and the first one I've actually read. It was a fun read. There were qualities in each that I liked. Matt was loyal to his family and willing to sacrifice everything so that no one knew what his brother was going through. When he realizes that he's falling for Anya, his internal struggle to tell her the truth begins to wear on him. He was both endearing and frustrating. But with Anya being a reporter, you could tell why he was reluctant to be honest.

Then there was Anya. I liked her strength and her determination. She had a crappy life and saw a way out of it, even temporarily. When she starts developing feelings for Matt, who she still thinks is Will, she has to weigh out just how important selling secrets is to what she's feeling for Matt.

The book includes adorable dates and interactions between the two giving us time to watch their relationship grow. The drama was predictable, but I don't think we read these types of books for the suspense. Ultimately, we know the ending. It's just the in-between parts that we're interested in.

3 Stars
What a cute ending to this set.

Nathan has been labeled the "cute one" of Seconds to Juliet. Being the only one single left in the group, management has been leaning on him hard to boost their social media ratings. The brilliant idea - have him "date" other celebrities but not settle down. Nathan is willing to do it if it saves the band, but then he meets Abby.

Abby is the newest opening act for S2J and she knows the rule - don't get involved with anyone in the band. But there's a connection with Nathan that she just can't seem to ignore. With neither of them willing to put their careers in jeopardy, they embark on a game of hide the feelings and try to be friends.

This was probably the least dramatic of the bunch with me only getting slightly frustrated with how they let LJ, their manager, control every aspect of their lives. I'm so glad that the other guys finally realized what was going on and they stood up to LJ and really had each others back.

A very fun series and quick to read.
-----------------------------------
Overall, this was an adorable series. I recommend it for anyone looking for something fun and quick!
I received an e-copy of this book from the publisher in exchange for an honest review.