The blurb as seen on
Goodreads
: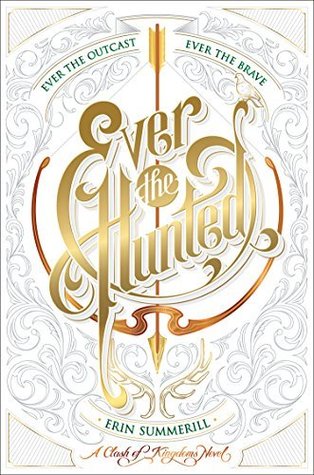 Release Date: December 27, 2016
Publisher: HMH Books for Young Readers
400 Pages
The first in a duology, Ever the Hunted is a romantic, page-turning fantasy debut that will appeal to readers of Sarah Maas and Rae Carson about the outcast daughter of a bounty hunter who must track her father's killer in a world of mad kings, warring kingdoms, and dangerous magic.
Well, this book was a pleasant surprise. I'm going to try to give a brief little summary without spoiling anything - almost any bit of detail is a spoiler in this case.

Following the death of her father, Britta gets captured by the King's guard after poaching on his land. In exchange for keeping her house and freedom, Britta makes a deal to track down her father's killer and bring him back to answer for his crimes. The problem with this is her childhood best friend, Cohen, is being charged with the crime. Knowing that she's basically exchanging his life for hers, she sets out with three of the King's guard on a trek across the kingdom to find Cohen. Running parallel to this story is the fact that there are two kingdoms on the verge of war - one houses magical users, the other forbids the use of magic. Both plots stand on their own but weave together at the end that just makes me excited to read the conclusion.

Britta wasn't exceptional. The story not entirely unique. But the way the author told it made it enjoyable for me. There were even parts that I thought I had figured out but then was pleasantly shocked at the reveal. I loved Cohen's horse - talk about sass, Siron definitely had it and I loved it. I can't wait to learn more about side characters that I found intriguing and hope that Summerill expands on them in the follow-up.

And also, there was no insta-love! The love story that exists, exists because of a history between the two characters. It's believable especially with the flashbacks interwoven throughout. If you're a fan of fantasy and magic, I think you would really enjoy this one.

And look how shiny the cover is!
I received an e-copy of this book from the publisher via Netgalley in exchange for an honest review.