The blurb as seen on
Goodreads
: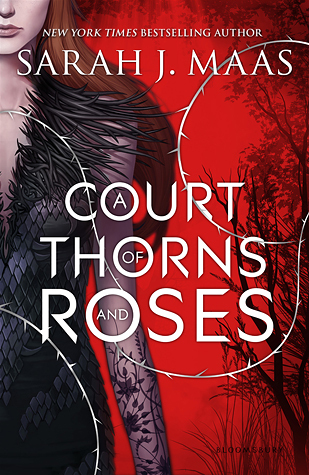 Release Date: May 5, 2015
Publisher: Bloomsbury
432 Pages
A thrilling, seductive new series from New York Times bestselling author Sarah J. Maas, blending Beauty and the Beast with faerie lore.

When nineteen-year-old huntress Feyre kills a wolf in the woods, a beast-like creature arrives to demand retribution for it. Dragged to a treacherous magical land she only knows about from legends, Feyre discovers that her captor is not an animal, but Tamlin—one of the lethal, immortal faeries who once ruled their world.

As she dwells on his estate, her feelings for Tamlin transform from icy hostility into a fiery passion that burns through every lie and warning she's been told about the beautiful, dangerous world of the Fae. But an ancient, wicked shadow grows over the faerie lands, and Feyre must find a way to stop it . . . or doom Tamlin—and his world—forever.

Perfect for fans of Kristin Cashore and George R. R. Martin, this first book in a sexy and action-packed new series is impossible to put down!
So I was super excited to read start this series based on all of the amazing things that I had heard about it. And also, that cover, just beautiful. But alas, the wise words were true here and I shouldn't judge a book by it's cover. Not that I didn't like it, because I did, but overall it was just kind of meh. Now before you get all pitchforky, let me tell you why.
Meet Feyre, our Belle in this story, even though in the beginning she's more like Katniss with her skills to take care of her family. Anyway, Feyre is the 'breadwinner' of sorts in her family. She's the one who brings the food home, who finds pelts to sell in the market - all so her lazy sisters and weak father don't have to do anything. One day, Feyre makes a mistake in the woods that leaves her bound to our 'Beast', high fey Lord Tamlin. Obviously these two do not get along in the beginning (see portrait below)
But over time, as the story goes, they come to care for her. And the Beast, aka Tamlin, in his love for Belle, aka Feyre, choses to let her go. But alas! There's a curse on the fairy land that only Feyre can break so she must venture back into Prythian and face darkness she's never known.
What I liked:
- Rhys: Even though we don't get that much of him here. The tease that we see just made me want to know more about him. He has a story to tell, I just know it.
-Lucien: Tamlin's right hand man outshone his own Lord. He kept surprising me with his wit and his actions. I never knew if he was trying to kill Feyre or help her - and it just made the story all that more interesting.
-The world: One thing that is hard to do is world build. Even though we didn't see much of the fairy lands, mostly just the Spring Court, the visual that Maas created was extremely vivid and alive.
-Feyre's love for her family: I don't know how she did it with those three. But her love was never unwavering and the only thing she thought about was their safety - even if they didn't deserve it.
What I didn't like:
-Pacing: This book was extremely slow moving. From the time Feyre goes to Prythianto the time she returns, nothing really happens except long drawn out sulking and brooding. For a 400+ book, only about half has substance.
-Feyre's family: While her father seemed generally upset that he was no longer useful after his accident, her two sisters literally did nothing. Elain, who we are told is just so sweet and gentle,and Neesta, who is a downright bitch, just stayed at home all day while Feyre hunted food for them. Then spent all of the money Feyre would get for pelts on frivolous things because their heads were still stuck in the past when they had money. They infuriated me to no end. You want something? Work for it. Don't just sit and complain about how you lost everything and treat the one sister who actually does something like shit! Sorry, I have a lot of feelings about her family.
-Tamilin himself. Yes, I know. I can hear all the gasping from here. But he just didn't do it for me. He was so...boring. And weak. He was extremely weak. The whole end of the book proved this as he sat by and did nothing.
-The love story: this probably has to do with my dislike of Tamlin, but I just didn't feel it. It went from "he's hot" to "I love him" in the blink of an eye and there was just no base for me to understand their connection.
Overall, I enjoyed most of the book and will definitely check out the next (I've been told there's more Rhys). Just hope it moves away from the Tamlin/Feyre love story cause I just don't buy it...