The blurb as seen on
Goodreads
: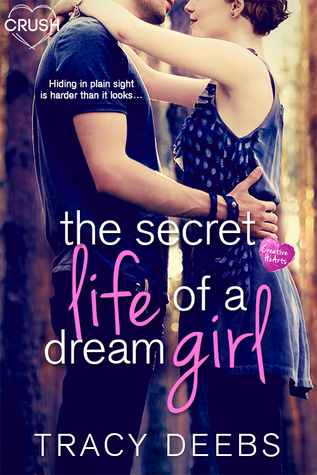 Release Date: June 27, 2016
Publisher: Entangled Teen
219 Pages
Hiding in plain sight is harder than it looks…

Dahlia Greene—aka international pop superstar Cherry—is undercover as a normal high school student. She just wants to experience what real life is like, so when she overhears hottie Keegan Matthews nervously talking about liking a girl, she sees the perfect opportunity to live a real life and play a little matchmaker. What was not part of the plan was falling for a guy she can never tell the truth.

Keegan Matthews has been secretly crushing on Dahlia ever since she started at his school. Sure, Dahlia thinks he's crushing on some other girl—not realizing his Dream Girl is actually her—but he figures, play along with her tips to woo someone else, let her get to know him, and then make his move. But with so many secrets in the mix, their romance is doomed from the start…
In a story very reminiscent of Hannah Montana, Secret Life of a Dream Girl tells the tale of pop sensation Cherry trying to live under the radar as a normal high school student at a school for the arts in Austin, TX. Unlike Miss Montana, Cherry – or Dahlia, as she goes by now – wants to leave the pop world behind and take control of her own music. This is something her father/manager doesn't want. In order to get away from his rule, Dahlia chooses to become emancipated from her father. Something the court will only agree to if she can stay out of trouble and prove she can handle her fame/money/life herself. Her goal was simple: keep to herself while figuring out where she wants to go next. What she didn't count on was Keegan Matthews.
Keegan has been crushing on Dahlia since she first walked through the doors of NextGen. When Dahlia overhears Keegan talking about some mysterious girl he has a crush on, she decides in order to get the complete high school experience she needs friends. And what's more friend inducing than helping someone land their crush? So Dahlia offers up her services to Keegan who basically thinks he's hit the jackpot and instantly takes her up on her offer.
Obviously, nothing can go wrong, right? Well, this wouldn't be a high school drama without some drama. Dahlia starts to fall for Keegan not realizing she's who he wants. Keegan slips further and further into this lie about a dream girl that he doesn't know how to come clean. And then there's Dahlia's true identity. Should she tell him? Should she not?
Even though this is book four in the series, this is only the second one I've read. They are mostly a companion series, meaning you don't actually have to read each book for it to make sense. It helps knowing the background of some characters, and it was nice seeing ones that I remembered, but it's not at all necessary to enjoy them. And I did enjoy this one. I felt for Dahlia and her struggles to do what she wanted. Despite being a singer, no one was letting her have a voice. And then there was Keegan, who's home life was also falling apart but in a way completely opposite of Dahlia.
This is the story of two different people, from completely different walks of life, finding solace and strength in each other at a time when figuring out who you are and what you want is weighing heavily on your shoulders. I am very interested in what happens next with these two and will be keeping my eye out for their next story.
I received an e-copy of this book from the publisher via Netgalley in exchange for an honest review.