The blurb as seen on
Goodreads
: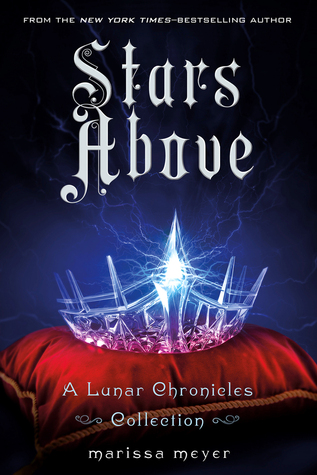 Release Date: February 2, 2016
Publisher: MacMillian
369 Pages
he universe of the Lunar Chronicles holds stories—and secrets—that are wondrous, vicious, and romantic. How did Cinder first arrive in New Beijing? How did the brooding soldier Wolf transform from young man to killer? When did Princess Winter and the palace guard Jacin realize their destinies?

With nine stories—five of which have never before been published—and an exclusive never-before-seen excerpt from Marissa Meyer's upcoming novel, Heartless, about the Queen of Hearts from Alice in Wonderland, Stars Above is essential for fans of the bestselling and beloved Lunar Chronicles.

--
The Little Android: A retelling of Hans Christian Andersen's "The Little Mermaid," set in the world of The Lunar Chronicles.
Glitches: In this prequel to Cinder, we see the results of the plague play out, and the emotional toll it takes on Cinder. Something that may, or may not, be a glitch….
The Queen's Army: In this prequel to Scarlet, we're introduced to the army Queen Levana is building, and one soldier in particular who will do anything to keep from becoming the monster they want him to be.
Carswell's Guide to Being Lucky: Thirteen-year-old Carswell Thorne has big plans involving a Rampion spaceship and a no-return trip out of Los Angeles.
The Keeper: A prequel to the Lunar Chronicles, showing a young Scarlet and how Princess Selene came into the care of Michelle Benoit.
After Sunshine Passes By: In this prequel to Cress, we see how a nine-year-old Cress ended up alone on a satellite, spying on Earth for Luna.
The Princess and the Guard: In this prequel to Winter, we see a game called The Princess
The Mechanic: In this prequel to Cinder, we see Kai and Cinder's first meeting from Kai's perspective.
Something Old, Something New: In this epilogue to Winter, friends gather for the wedding of the century...
I feel like my love for Marissa Meyer just knows no bounds. She is one author where I could say that I would read literally anything that she writes. I mean, The Lunar Chronicles is on the top of my list of favorite series. And I, like most people, were sad to see it come to an end. Then Stars Above happened.
While most of the stories in Stars Above aren't new, that didn't tame my excitement for the book. In fact, I was super happy to have all of the short stories that take place in the Lunar world all in one book. Plus there were bonus stories that I hadn't read yet, especially one with the hint of a wedding! I could barely contain my excitement (in case you couldn't tell).
In this collection of short stories we see all of our old friends again, and we meet some new ones. Most short stories are just fun scenes that the author thought of and didn't fit in the original story, hence why they release them separately. What Meyer has put together here, with the exception of one of the stories, is tie up lose ends and answer questions that were lingering in everyone's mind after the conclusion of Winter. How did Cress end up in that satellite? How did Wolfe become, well, Wolfe? Who all was in on the hiding of Princess Selene? And what happens after the last book?
As I mentioned, there is one story that doesn't really have any base except that it takes place in the same world. That's The Little Android. While I liked it, it just didn't fit in with the rest of the book. It was the only story that didn't have any of the characters we previously knew and it was hard to get a sense of where it fit in the time table of events. Doesn't mean I didn't enjoy it, cause I did, it just didn't really fit for me.
All in all, super happy to get more of these characters and also get the closure they deserved. I cannot wait to see what Meyer thinks of next.