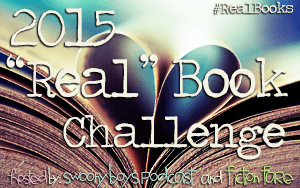 Happy 2016 everyone! I know that 2015 was a slow time here on the blog, but life just kind of got away from me toward the last half. I'm hoping 2016 allows me to get back to reading and blogging because, man, I've missed it!
Aside from just posting, I haven't updated my "Real" Book Challenge since August (I know, I fail). But since this was the last year that it's happening, I wanted to post a wrap up with all of the "real" books I've read since August.
Goal: 80
Total So Far: 48
Current Level: Real Book Hoarder
I didn't do nearly half as well as I wanted to but it was fun nonetheless. Thank you so much to the girls over at the Swoony Boys Podcast for putting this on, it was always one of my favorite challenges to participate in.