The blurb as seen on
Goodreads
: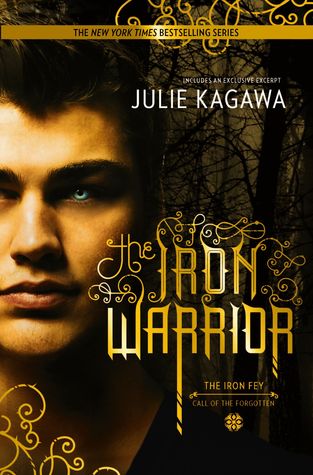 Release Date: October 27, 2015
Publisher: Harlequin Teen
384 Pages
The Iron Prince—my nephew—betrayed us all.

He killed me.

Then, I woke up.

Waking after a month on the brink of death, Ethan Chase is stunned to learn that the Veil that conceals the fey from human sight was temporarily torn away. Although humankind's glimpse of the world of Faery lasted just a brief moment, the human world has been cast into chaos, and the emotion and glamour produced by fear and wonder has renewed the tremendous power of the Forgotten Queen. Now, she is at the forefront of an uprising against the courts of Summer and Winter—a reckoning that will have cataclysmic effects on the Nevernever.

Leading the Lady's Forgotten Army is Keirran himself: Ethan's nephew, and the traitor son of the Iron Queen, Meghan Chase.To stop Keirran, Ethan must disobey his sister once again as he and his girlfriend, Kenzie, search for answers long forgotten. In the face of unprecedented evil and unfathomable power, Ethan's enemies must become his allies, and the world of the fey will be changed forevermore.
It's no secret now that I absolutely LOVE Julie Kagawa and will read anything that this woman writes. Add that to the fact that I have been waiting for what feels like forever for this book and I think it's safe to say that I was super excited to finally have it in my hands.
The Iron Fey: Call of the Forgotten series focuses on the relationship between Ethan Chase and his nephew, Prince Keirran and centers around a prophecy that was revealed at the end of the Iron Fey series. Here we find Ethan frantically navigating the in Between on a quest to get Keirran back his soul and stop the impending war between the Courts of Nevernever and the Forgotten Queen.
Blinded by what he thinks is right, Keirran is leading the Forgotten Army straight into battle against the courts, including his mother. He's brash, but driven. He has all of the elements of a leader but it's his direction that's a little skewed. Ethan knows his nephew and he refuses to believe that this is what has become of Keirran. It isn't until Keirran attempts to kill Ethan again that Ethan finally realizes that Keirran must be stopped. Unwilling to kill his own nephew, Ethan sets out on a quest to find the only thing that can return Keirran to his former self - an amulet containing the essence of his soul.
I've loved Keirran since the first time he appeared in print. So I was right there along side Ethan the entire way as he fought to restore Keirrans soul. This doesn't mean that I didn't want to drop kick his fairy ass all the way through Nevernever. I could not believe how he was acting and it made it hard to love him. But I do love my damaged boys.
What I love about reading work from Kagawa is how alive her writing is. I'm normally not a huge fan of books relating to the fey but this has hands down become one of my favorite series. And that's all due in part to this world and these characters that just demand attention. These magical places feel so real that I want to travel there myself. I want to see through the glamour of the fey and feel the sun in the Summer court and the snow in the Winter court. I want my own Razor sitting on my shoulder. Truthfully, I just want more of this world and am sad that it came to a close. However, if Kagawa ever decides that she wants to reopen this world, I will be there in a heartbeat!