The blurb as seen on
Goodreads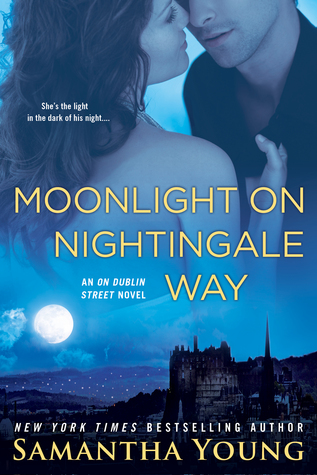 Release Date: June 2, 2015
Publisher: NAL
352 Pages
Logan from Echoes of Scotland Street is back with his own smoldering story, as the New York Times bestselling On Dublin Street series returns…

Logan spent two years paying for the mistakes he made. Now, he's ready to start over. He has a great apartment, a good job, and plenty of women to distract him from his past. And one woman who is driving him to distraction…

Grace escaped her manipulative family by moving to a new city. Her new life, made to suit her own needs, is almost perfect. All she needs to do is find her Mr. Right—or at least figure out a way to ignore her irresistible yet annoying womanizer of a neighbor.

Grace is determined to have nothing to do with Logan until a life-changing surprise slowly begins turning the wild heartbreaker into exactly the kind of strong, stable man she's been searching for. Only just when she begins to give into his charms, her own messy past threatens to derail everything they've worked to build…
Now this is how you wrap up a series!
Having left her controlling family and branched out on her own, Grace enjoys her life. She has a great career and amazing friends. The only thing she doesn't have is a significant other. Despite the numerous dates her friends set her up on, no one comes close to stealing her heart. Least of all, her obvious heartbreaker of a neighbor. There is no neighborly friendship between these two, it's just straight out animosity from the beginning. It doesn't help that they find themselves thrown together when a surprise from Logan's past makes an appearance and Logan turns, rather reluctantly, to the only person he feels can help him.
And there's a whole lot of it here.
But it wasn't just Grace and Logan's story that drew me in. It was the way in which Young showcases family and friends. Everyone from the first book and on are still very much present. We get to see little peeks into their lives and see where they each stand currently. Young created such a family between all of them whether they were blood or not and it's amazing and beautiful.
Hands down this was my favorite of the series. The minute I finished it, I wanted to read it again. I loved Grace and how she stood up for herself and the people she loved, even when everything was falling in on her. She was fierce and protective and everything Logan needed in his life. And I loved Logan for his undying loyalty to his sister and how even though he did time, he still felt like he didn't deserve happiness. Happiness and love were foreign concepts to Logan and it was fun watching him navigate these new feelings. On top of that, watching him grow into his new role after the surprise of his life just made me fall more in love with him on each page.
These books individually are great reads but as a series they are amazing. So would I recommend this series to people?
I received a copy of this book from the publisher in exchange for an honest review