The blurb as seen on
Goodreads
: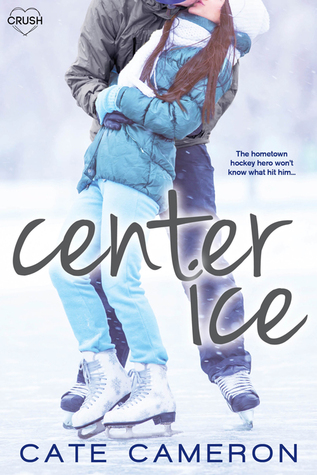 Release Date: May 19, 2015
Publisher: Entangled Teen
196 Pages
The hometown hockey hero won't know what hit him…

Karen Webber is in small-town hell. After her mother's death, she moved to Corrigan Falls to live with strangers—her dad and his perfect, shiny new family—and there doesn't seem to be room for a city girl with a chip on her shoulder. The only person who makes her feel like a real human being is Tyler MacDonald.

But Karen isn't interested in starting something with a player. And that's all she keeps hearing about Tyler.

Corrigan Falls is a hockey town, and Tyler's the star player. But the viselike pressure from his father and his agent are sending him dangerously close to the edge. All people see is hockey—except Karen. Now they've managed to find something in each other that they both desperately need. And for the first time, Tyler is playing for keeps…
Well, wasn't this just adorable? Also, hockey - bonus points.
Who knew getting attacked by a squirrel would lead to this? Karen Webber's life has been seriously altered. After the death of her mother, she's forced to live with the father she never knew and his other family. What makes it even more awkward is that her father cheated on his wife with Karen's mother. Talk about fun family bonding time. Besides being heartbroken over losing her mother, she's angry at her father, confused about where she fits in, and lonely.
During one of her morning runs, she falls victim to a squirrel attack only to be saved by a very attractive boy.
Tyler MacDonald is known throughout Corrigan Falls. It's a small town, but a hockey town. And Tyler is their star player. Ask anyone and they'll tell you he's bound for the NHL. Anyone except Tyler. While the NHL is his goal, the pressure to excel is burying him. Between his father and his agent Tyler has no release, no time for himself- except for his morning runs. When he sees Karen, he's instantly drawn to her. Turns out she may be the one escape he needs, but not all see it that way.
I am a huge hockey fan and I loved all of the ins and outs of this business that Cameron incorporated into the plot. It seemed to make it much more of a story about growing up than just a teen romance. It also provided more depth to a character like Tyler who is pretty much only known for two things: hockey and sleeping around. Reading about his nerves of the future and planning out his career made him more realistic and I enjoyed him more because of it.
With Karen, she was harder to like. I felt really bad for her. Her situation was horrible. But at the same time, she did nothing to lessen the stress. While I get the animosity between her and her older halfsister, the way Karen treated her dad's wife was downright horrible. Between constantly throwing out how her father was a cheater and then stomping around like the world owed her something, I was honestly waiting for them to send her off somewhere else. But I tried to give her some slack. She was young and didn't really understand that other people were also hurting in this situation.
There were a lot of cute little moments between Tyler and Karen, and it was fun to watch their characters fall in love. There were also some very interesting family dynamics playing out. You have Karen's new family who, for the most part, were trying to make her welcome, but she didn't want to be there. Then you had Tyler's parents who were basically living the worst people ever and only cared if their son made it to the NHL, not if he was happy (oh my god, I hated his father!).
Cameron definitely has my interest in this series and I will continue to read it. I'm looking forward to learning more about the other guys on the team.
I received an e-copy of this book from the publisher in exchange for an honest review.