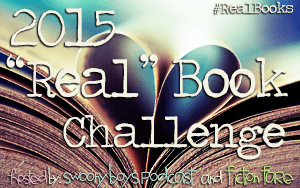 It's Springtime! You know what that means? Outside reading time. I look forward to it every year and here in California, March kicks off spring for me. Add that plus a road trip to Texas, and March was a good reading month for me. So here are all the "real" books I've read in March:
Goal: 80
Total So Far: 17
Current Level: Real Book
Enthusiast
I added 8 more toward my goal for the month. Not bad at all. You can still join by heading over to
Fic Fare
and signing up. Until next month!