The blurb as seen on
Goodreads
: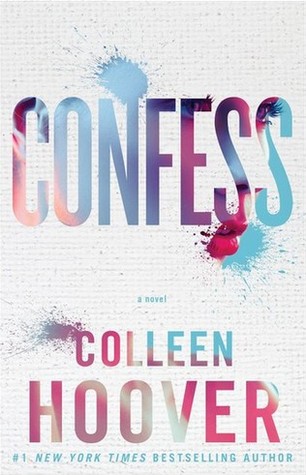 Release Date: March 10, 2015
Publisher: Atria Books
320 Pages
From #1 New York Times bestselling author Colleen Hoover, a new novel about risking everything for love—and finding your heart somewhere between the truth and lies.

Auburn Reed has her entire life mapped out. Her goals are in sight and there's no room for mistakes. But when she walks into a Dallas art studio in search of a job, she doesn't expect to find a deep attraction to the enigmatic artist who works there, Owen Gentry.

For once, Auburn takes a risk and puts her heart in control, only to discover Owen is keeping major secrets from coming out. The magnitude of his past threatens to destroy everything important to Auburn, and the only way to get her life back on track is to cut Owen out of it.

The last thing Owen wants is to lose Auburn, but he can't seem to convince her that truth is sometimes as subjective as art. All he would have to do to save their relationship is confess. But in this case, the confession could be much more destructive than the actual sin…
Ok, it's not a big secret that I adore Colleen Hoover. But while I adore her and her writing, I'm not always in love with her stories. So after [book:Ugly Love|17788401], I was a little bit worried about connecting with her characters. Then I read Confess and damn...
The story begins with 15-year old Auburn Reed and her dying boyfriend, Adam, in the hospital struggling to say goodbye to each other for the last time. It's a sad, emotional scene that sets the stage for Auburn's troubled state for the rest of the novel. 5 years later, she's living in Texas, working for a job she hates and just trying to make it day by day.
Owen Gentry is an artist who owns his own studio. He designs his paintings based on anonymous confessions he receives from people. Like Auburn, he is also dealing with events from his past and uses his art to hide in. When he meets Auburn, she forces his past to come forth as well as hers.
This book was very intense and at times I couldn't help but think "this is too much for one person to have gone through", but as the events unraveled and I learned about these two, my heart just broke for them. Without giving away the story, Auburn is a very strong young woman and even though she makes some decisions that no one would agree with, when you know her reasoning, you can't help but understand.
I've also read a lot of reviews about the istalove in this book. I'm not a huge fan of instalove, I feel that it's very overused in this genre and comes off completely unbelievable. However, in
Confess
, I can see how people call it instalove on Owen's part, but as his past unravels, it wasn't so much instalove for me and I found myself okay with how it was portrayed.
There were also some heavy scenarios here that shocked me. Hoover touches on manipulation, abuse, substance abuse, and rape.
Hoover has a knack for writing the dramatic and sometimes it works, sometimes it doesn't, but she always sucks me in. It was the last chapter that really broke me and brought the whole story full circle.