The blurb as seen on
Goodreads
: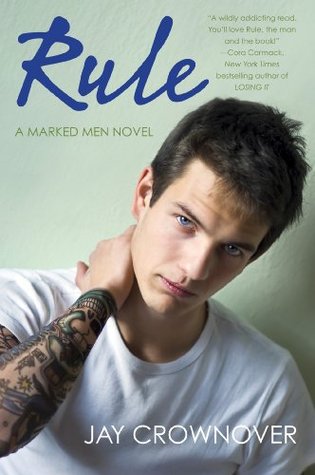 Release Date: May 23, 2013
Publisher: HarperCollins
432 Pages
Opposites in every way . . . except the one that matters

Shaw Landon loved Rule Archer from the moment she laid eyes on him. Rule is everything a straight--A pre-med student like Shaw shouldn't want--and the only person she's never tried to please. She isn't afraid of his scary piercings and tattoos or his wild attitude. Though she knows that Rule is wrong for her, her heart just won't listen.

To a rebel like Rule Archer, Shaw Landon is a stuck-up, perfect princess-and his dead twin brother's girl. She lives by other people's rules; he makes his own. He doesn't have time for a good girl like Shaw-even if she's the only one who can see the person he truly is.

But a short skirt, too many birthday cocktails, and spilled secrets lead to a night neither can forget. Now, Shaw and Rule have to figure out how a girl like her and a guy like him are supposed to be together without destroying their love . . . or each other.
His name was Rule. I mean, seriously, based on that name alone this book should have been ridiculous. But damn it all if that boy didn't own his name and this book. And I loved every second of it.

Rule Archer has a giant chip on his shoulder. Having dealt with the death of his twin brother, Remy, and the subsequent fall out with his parents, he's out to prove that he doesn't need anyone and he lives life his own way. Tattooed, pierced, and with different color hair almost every week, Rule defines 'bad boy'.

Shaw Landon grew up with the Archers and considers them more of a family than her own. Even though everyone assumed it was Remy who had her heart, the secret was that Shaw loved Rule. Having come to terms that he would never see her as an actual girl, Shaw throws caution to the wind and gives in to her feelings in an alcohol induced night.

On the outside, these two were as different as you could get. But once you strip them down to the core of what made them who they were, it's so easy to see how well they fit. Unfortunately, not everyone else saw that. What I loved about this book was how Crownover removed their layers piece by piece. They both struggled with the difference of being who everyone wanted them to be and being who they were inside. It was a slow breakdown of character and I was interested in watching them grow.

And it wasn't just Rule and Shaw's relationship that kept me reading. It was Rule's relationship with his brothers and with his friends. It was Shaw's relationship with the Archers. Every relationship, friend or lover, in this book had life and I enjoyed reading all of the different interactions.

While the premise wasn't really anything new, I found that while Crownover succumbed to some typical cliches, she did with a sort of finesse and made them seem new. The old 'take and idea and make it your own' worked here. I wasn't annoyed with the actions that had me screaming in other books and I believe that was mostly in part to these rich and lively characters that she created. I mean, they all just jumped off of the page at you. In Rule's case, he jumped while screaming the whole way. These characters demanded your attention and I have a feeling that each subsequent book will be the same.

Having met most of the guys that will star in the other books, I cannot wait to dive into each of their stories. The little glimpses of each of them here just left me wanting more. And of course, I'm desperate to know which of these Marked Men will steal my heart the most.