The blurb as seen on
Goodreads
: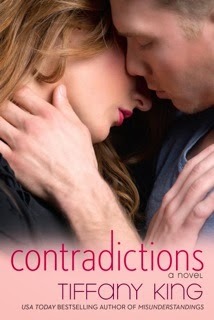 Release Date: January 6, 2015
Publisher: Berkley Trade
304 Pages
When everything starts spinning out of control . . .

Three years into college, Tressa Oliver's life is a nonstop party. She's skating by in her classes, and there's no shortage of drinking, dancing, and general hell-raising. The only aspect that hasn't been much fun: She can't shake the toxic jerks that always seem to gravitate toward her.

It will take someone totally wrong . . .

Trent Lawson is the classic anti-bad boy: smart, boring, and way too serious. To a wild girl like Tressa, there's no way in hell they're compatible—especially since Trent seems to see straight through her defenses.

To set her right.

When a college prank goes terribly wrong, Tressa starts to suspect that her partying ways are leading nowhere fast. Now she has to turn to the last person she ever thought she'd ask for help—and quickly discovers that there's more to Trent than meets the eye . . .
Nerd boy meets party girl in this super sweet love story. Tressa Oliver is your typical college party girl: she goes to classes but only gives enough just to pass , non-stop drinking and partying are always on her social calendar, and there's definitely no shortage of boys. When that life comes crashing down, Tressa is doused in the reality that either she changes or she's out of college.
Trent Larson is everything that Tressa isn't used to. He prefers studying over partying, he's quiet, and kind of a geek. And he's also from Tressa's hometown. Everything she wants to stay away from. When Trent is assigned as her tutor, her first instinct is to run. Something about the way Trent looks at her makes her uncomfortable. And who needs a tutor anyway?
I absolutely adored Trent. Maybe because I'm slightly a geek myself, but everything about him made me want to cuddle (and more!) with him. Even though he came across as quiet, he wasn't afraid to speak his mind. He was blunt and preferred to get straight to the point of what he was always feeling instead of running in circles and playing games. Tressa has no idea what to do with him, or her budding feelings. But realizing she's about to lose everything and that she's disappointed those who believed in her, has her rethinking everything about how she lives.
Tiffany King's writing just seems to get better and better within this series. From the first one to this, I see so much growth in storytelling and execution. And the boys just keep getting better. Trent is my favorite thing to come out of Woodfalls and I look forward to reading more from King.
I received a copy of this novel from the publisher in return for an honest review.