The blurb as seen on
Goodreads
: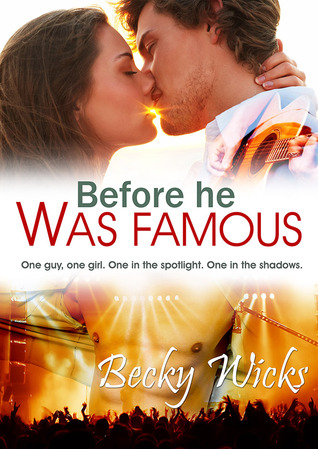 Release Date: May 29, 2014
Publisher: Self-Published
279 Pages
One guy, one girl. One in the spotlight. One in the shadows.

Falling in love with your best friend isn't always a great idea, especially when he's Noah Lockton - the sexiest, most famous new talent on the planet. When 21-year-old small-town photographer Chloe Campbell is offered the chance of a lifetime – to join her celebrity childhood friend Noah on tour as an exclusive blogger for a New York magazine – she's certain both have put what happened four years ago behind them. But his eyes still burn; his voice is still a jackhammer to her heartstrings; all his songs are about her. Is it possible that that night still haunts them both?

The music industry is a machine, spinning hype and rumors as much as his records. It's not just Noah's girlfriends who've got it in for Chloe (there's no stopping the Twitter-obsessed, cat-loving pop-star Courtney Lentini for starters). Pretty soon, the jealousy and media frenzy surrounding these so-called-friends takes a life-changing turn and it seems making love means making enemies at every turn. When tragedy threatens to pull the final curtain on their relationship, both Chloe and Noah must make a choice. As much as this world leaves them starstruck, is living their dream really worth living without each other?

A story of lifelong friendships, love and hope, set in a world of celebrity, fame and social media gone very, very wrong.

From International Bestselling HarperCollins Author, Becky Wicks, comes a new adult romance that will leave you starstruck.

***Warning: this book contains graphic language, sex, and mature situations. Not intended for young adult readers.***
I'm a sucker for stories set in a Hollywood-type feel. Growing up I was always fascinated with what goes on behind the scenes, how everything works and that's just carried over to books. So of course I had to read Before He Was Famous.
Noah Lockton basically wins American Idol and goes from small town boy to superstar almost overnight and is thrust into the "celebrity" lifestyle. Chloe Campbell is Noah's best friend and jumps at the opportunity to travel with him as his own personal blogger so to speak. But as with most boy-girl friendships, there's underlying emotions especially after a certain night that happened almost four years ago that neither one will acknowledge. It's a tale of how no one actually talks about their feelings and just lets them simmer until one or both of them explode.
The base plot (small town boy becomes famous) was what intrigued me. However, our first glimpse at Noah was not all that great. He has a girlfriend but was thinking about how another contestant on the show had given him a blowjob recently. But that's not cheating. Umm, ok… So right away, I was not impressed with this guy. I went back and forth with him over the course of the book. There were times I liked him and could see why Chloe was in love with him. Their friendship was one of the saving factors of this story.
Our first impression of Chloe was this girl who was in a relationship with some guy she didn't trust or love and was seriously pining for her best friend. While I didn't dislike Chloe's character, I wanted more from her. I wanted her to be stronger and more motivated, determined even. She just kind of went with the flow and bummed herself out when things didn't magically go the way she wanted. And of course, she was the queen of running away when confronted with the truth.
This story was very modern, set basically in the now. Twitter and Instagram were heavy factors as were the celebrities the author name dropped in. While some were fun to read about, I do wonder if this will date the book in the future. Aside from the celeb shout outs, Peter Pan was a major theme. Now I just need to say here that I am a huge Peter Pan fan. It's one of my favorite Disney movies of all time so when Noah and Chloe called each other "Peter" and "Pan" I was all, awwww. It was adorable and made sense with their history (they were in a Peter Pan play when they were kids). But I'm not going to lie, it became a little much when almost every page had a reference to my beloved movie. Nicknames, quotes, songs…it was just a little overboard. I think the author was trying too hard to make the audience have a connection that it just got weighted down with pop culture.
Overall, it was an okay story. I didn't love it but I didn't hate it either. The overly done side characters I could have done without and I wish the author would have stayed away from the drama for the sake of drama that was the last half of the book, but I did enjoy watching Chloe and Noah navigate their feelings in the spotlight.
I received an e-copy of this novel from the publisher via Netgalley in return for an honest review.