The blurb as seen on
Goodreads
: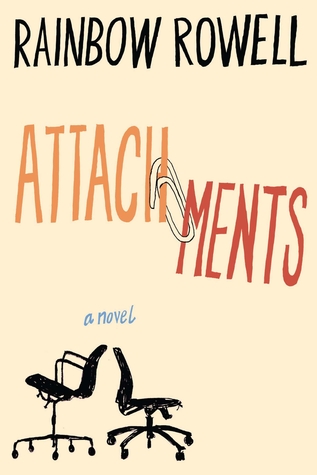 Release Date: April 14, 2011
Publisher: Dutton Adult
353 Pages
"Hi, I'm the guy who reads your e-mail, and also, I love you . . . "
Beth Fremont and Jennifer Scribner-Snyder know that somebody is monitoring their work e-mail. (Everybody in the newsroom knows. It's company policy.) But they can't quite bring themselves to take it seriously. They go on sending each other endless and endlessly hilarious e-mails, discussing every aspect of their personal lives.
Meanwhile, Lincoln O'Neill can't believe this is his job now- reading other people's e-mail. When he applied to be "internet security officer," he pictured himself building firewalls and crushing hackers- not writing up a report every time a sports reporter forwards a dirty joke.
When Lincoln comes across Beth's and Jennifer's messages, he knows he should turn them in. But he can't help being entertained-and captivated-by their stories.
By the time Lincoln realizes he's falling for Beth, it's way too late to introduce himself.
What would he say . . . ?
Attachments
is the second book I've read by Rainbow Rowell, and with each word she writes, she enchants me more and more. This novel is a bit unconventional, and Rowell pulls it off with ease. She is a phenomenal writer, who produced another marvelous story that completely captured my heart.
Beth and Jennifer have been friends for years; they even work at the same newspaper. Unbeknownst to them, it's Lincoln's job to monitor emails of the newspaper employees, and their personal back-and-forth emails have been flagged for his viewing. Lincoln's life is a mess. He can't seem to get over his ex, Samantha. He lives with his mother, and he has a job he hates. The only highlight of his life is the witty, intelligent emails he reads written by Beth and Jennifer. Beth and Jennifer have their own problems to worry about, but through a series of awkwardly adorable events, the lives of these three intertwine.
I love the layout of this story. For most of the book, the chapters flip between emails between Jennifer and Beth, and Lincoln's point-of-view. We only know the two women through what Lincoln sees in their emails, but the reader will get a clear view into Lincoln's head. Both parts play off one another very well, and they flow very well. The format of the chapters is interesting. The emails shared between Beth and Jennifer were my favorite part of the novel, and they were set up so well, in my opinion. I was quite surprised that I cared more about their friendship than the romance of the story. That's not to say I didn't enjoy the romance! It's just nice to see a story with dimension, and characters who care for more than just love. Seeing the support between these two friends was lovely.
I think a major reason that I connected so well with this novel is because I could relate to each of the main characters. They are flawed, and honest. Beth, Jennifer, and Lincoln are all going through their own struggles, and finding their own path. It was wonderful to read about characters who didn't have their lives together, who were dealing with insecurities, and fears. This book made me feel comfortable with myself. I definitely don't have it all together, and it's nice to know that I am not alone in that. Attachments is realistic, and awkward, and romantic in the weirdest, best way. It's an easy read probably because it's just so easy to love.
I don't have anything negative to say about this story. While I didn't fall in love with it the same way that I did Fangirl, the other Rainbow Rowell novel that I've read, Attachments was a gorgeous story. This is a novel about making your own happiness, true friendship, and finding love along the way. I would definitely recommend this book to fans of romantic comedies, and I, personally, can't wait to dive into another one of Rainbow's novels.