The blurb as seen on
Goodreads
: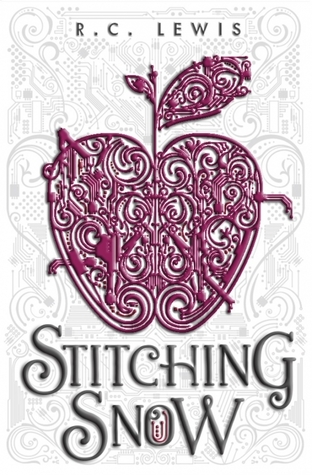 Release Date: October 14, 2014
Publisher: Disney-Hyperion
338 Pages
Princess Snow is missing.

Her home planet is filled with violence and corruption at the hands of King Matthias and his wife as they attempt to punish her captors. The king will stop at nothing to get his beloved daughter back—but that's assuming she wants to return at all.

Essie has grown used to being cold. Temperatures on the planet Thanda are always sub-zero, and she fills her days with coding and repairs for the seven loyal drones that run the local mines.

When a mysterious young man named Dane crash-lands near her home, Essie agrees to help the pilot repair his ship. But soon she realizes that Dane's arrival was far from accidental, and she's pulled into the heart of a war she's risked everything to avoid. With the galaxy's future—and her own—in jeopardy, Essie must choose who to trust in a fiery fight for survival.
I will start out by saying that at first it was hard for me to separate this book from Marissa Meyer's fairy tale series. Both take place in a very sci-fi heavy dystopian world. Both are based loosely on fairy tales we all know and love. Both involve royalty. However, as I read more into it, I was able to see the differences and come to appreciate Stitching Snow on its own.
Essie (not really a fan of the name) is on the run from her home planet and has found refuge on a small mining planet called Thanda. Here she builds drones that help the local miners. She flies under the radar mostly and that's how she likes it. Until the day a ship crashes bringing treasure seeker Dane into her life. Against her will, Essie befriends Dane and helps him rebuild his ship. It isn't until he's about to leave that she realizes he was there for her the whole time.
Snow White is not one of my favorite fairy tales in all honesty. But we all know the story: evil stepmother is jealous of her stepdaughter and does everything in her power to get rid of her. So right away I knew not to trust the King's wife, but it was the King that I was unsure about. Did he know what his wife had done (and was still doing), or was he just blissfully ignorant?
Then there's Dane, the love interest. He was an interesting one – brooding, quiet, not quite honest. It was obvious from the start that he would be the one our heroine fell for, it just became a mystery of how considering her all but kidnapped her. I've read other reviews where people have said he was forgettable or just okay and I can see it. There wasn't really anything amazing about it and I didn't get feels when reading about him, but I liked that he was a solid character who changed and grew over the course of the book. A lot was thrown at him, most of it contradicting what he thought he already knew, and yet he still managed to handle everything.
But the character (or characters) that stole the book for me were the drones. All 7 of them (I'm sure you can figure out who they were supposed to be). I found this to be a very original way to portray the dwarves and I loved them. Cusser and Dimwit were standouts. Dimwit reminded me of Wall-E so much. Not going to lie – I want one.
It's not often that we have standalone books anymore, especially with fantasy novels. This was one where I wouldn't mind having another book to just to wrap up everything and to see how Princess Snow unites the kingdom.
I received an e-copy of this novel from the publisher via Netgalley in return for an honest review.