The blurb as seen on
Goodreads
:
Release Date: April 22, 2014
Publisher: Roaring Brook Press
354 Pages
Laureth Peak's father has taught her to look for recurring events, patterns, and numbers - a skill at which she's remarkably talented.
Her secret: she is blind.
But when her father goes missing, Laureth and her 7-year-old brother Benjamin are thrust into a mystery that takes them to New York City where surviving will take all her skill at spotting the amazing, shocking, and sometimes dangerous connections in a world full of darkness.
She Is Not Invisible
is an intricate puzzle of a novel that sheds a light on the delicate ties that bind people to each other.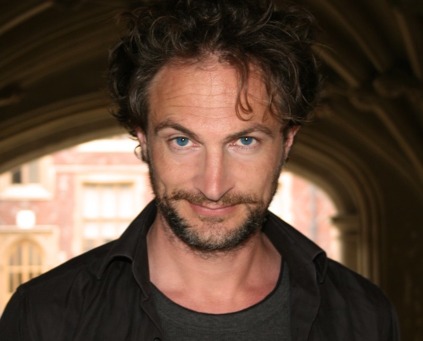 This is the first book that I've read by Sedgwick, and based on my experience, it will not be the last.
She Is Not Invisible
is a tale of familial bonds, strength, bravery, and coincidence. From the moment I heard about this unique story, I was determined to get my hands on a copy. Wendy, from
The Midnight Garden
, had been telling me to read something by this author for quite awhile and I'm ashamed that it took me so long to pick his work up!
From whatever viewpoint you look at, this story is imaginative. Laureth is a blind young adult, who is embarking on a huge adventure. Her father, once a renowned novelist, has disappeared. Sneaking away from her home in London with her little brother as her guide and companion, Laureth must use clues left behind, and brave New York to find her dad.
Some of the subjects that were brought up went over my head, but the intrigue of the plot kept me reading. The relationships between these family member also made this book that much better for me. Families in YA fiction are not generally shown as realistically as they are in this novel. Sure Laureth's family has their problems, but at the heart of it all, they have a deeply-rooted, unconditional love for one another. That is such a nice thing to see when so many recent books portray parents as dead/absent/abusive.
The plot is paced pretty slowly with quite a bit of build-up for the end. Though what the big mystery did not end
exactly
like I had expected, I still very much enjoyed this story. Laureth's point-of-view was mind-blowing. Her strength, as an individual struggling with a disability, astounded me. She does not want, nor need anyone's pity. She wants to be independent, and I sincerely admire that. The author does an excellent job of addressing the stigma of disability, and his character's struggle against is very well done.
She Is Not Invisible
may have been my first book by this author, but trust me when I say, Sedgwick's other novels have become top priority on my to-read list! This book won't be for everyone, but I would still recommend giving it a shot. Unique, heartfelt and utterly captivating,
She Is Not Invisible
is a novel I won't soon forget, and is sure to leave its mark on readers.
I received an ARC of this novel from the publisher for my honest opinion and review.