The blurb as seen on
Goodreads
: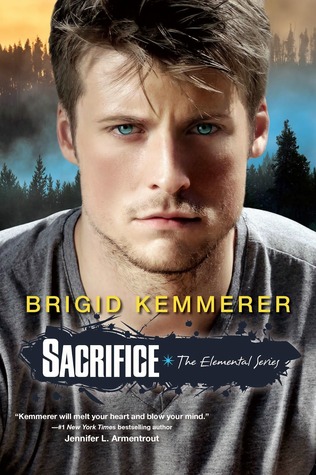 Release Date: September 30, 2014
Publisher: Kensington Teen
324 Pages
Earth. Fire. Air. Water.

One misstep and they lose it all. For the last time.

Michael Merrick understands pressure. He's the only parent his three brothers have had for years. His power to control Earth could kill someone if he miscalculates. Now an Elemental Guide has it in for his family, and he's all that stands in the way.

His girlfriend, Hannah, understands pressure too. She's got a child of her own, and a job as a firefighter that could put her life in danger at any moment.

But there are people who have had enough of Michael's defiance, his family's 'bad luck'. Before he knows it, Michael's enemies have turned into the Merricks' enemies, and they're armed for war.

They're not interested in surrender. But Michael isn't the white flag type anyway. Everything is set for the final showdown.

Four elements, one family. Will they hold together, or be torn apart?
Sacrifice: - an animal, person, or object offered
-an act of giving up something valued for the sake of something else regarded as more important or worthy
Not going to lie, based on those definitions I had a pretty clear idea of what was going to happen in this book. The book is called Sacrifice for Pete's sakes! So, I was scared. I just knew in my heart that we were going to lose someone that I came to love. What I didn't expect was the action packed rollercoaster that had the pages turning on their own (and truthfully, I should have expected that).
Michael has always been the aloof brother for me. He's there in every book almost in the background – offering advice, discipline, playing the dual role of father and brother. We never really got to see how it affected him, we only saw him through the eyes of the boys. So by the time I started reading
Sacrifice
I was ready to know Michael Merrick.
Oh how this book pulled on my heart strings. From the first chapter until the end, the action is non-stop and so is the heartache. Michaels brothers and Hunter all think that Michael has everything put together, everything figured out, but inside he's fighting this war with himself. He doesn't know what he's doing and all these new problems that are being thrown at him are pushing him to the breaking point.
Michael broke me. I felt for him. Everything he does, he does for his brothers. There is not one selfish bone in his body and when the boys are blaming him for everything going wrong, I just want to hide him away and give him cuddles. Kemmerer writes loss of hope and feelings of failure so realistic that I felt as if I was going through the motions with Michael.
My only issue with the book was the love story. I wasn't a huge fan of Hannah. Her relationship with Irish in the beginning had me fuming and I was like she better not be another person to screw over Michael. I admit that I grew more warm toward her as the book went on and she explained herself better, but she was never the one for Michael – at least not to me.
The action, the drama, the emotions – all of it just led up to that insane and gut-wrenching finale. One full of twists and surprises that kept me awake to finish this book in one sitting. And who would have thought I would like Tyler? (This actually started in the last book and held over through this one.)
But honestly, these books are driven by the relationships between the boys. That's the reason I read them and that's what keeps me hanging on. I know this is listed as the final Elemental book but I can't help wanting more! Brigid Kemmerer, I adore you and thank you for creating these boys. You have a solid fan in me and I will read anything you put out there.
I received a copy of this book via the publisher in return for an honest review.