The blurb as seen on
Goodreads
: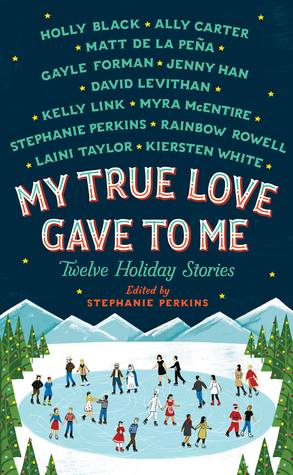 Release Date: October 14, 2014
Publisher: St. Martin's Press
320 Pages
If you love holiday stories, holiday movies, made-for-TV-holiday specials, holiday episodes of your favorite sitcoms and, especially, if you love holiday anthologies, you're going to fall in love with MY TRUE LOVE GAVE TO ME: TWELVE HOLIDAY STORIES by twelve bestselling young adult writers, edited by international bestselling author Stephanie Perkins.
Christmas is my favorite holiday, followed very closely by Halloween so to receive a book of winter-themed stories so close to Halloween is like everything I could've ever wished. I love the lights of the season, and snow, and the funnel cakes and sweet hot cider they serve at the zoo. I love getting presents, and giving them in return. I love kissing people under the mistletoe, and the smell of gingerbread. Basically, I love it for every commercialized, superficial reason in existence.
My True Love Gave to Me made me crave the winter sweetness that I love so much.
This book is filled with twelve stories written by some of the most talented authors in YA fiction today. While I didn't find all twelve pieces amazing, it was an overall magical anthology. Each tale was delightful in its own way. I was unsurprised that contributing authors that I loved before produced fantastic stories for this winter anthology. Of all the stories, I have to say that I enjoyed Stephanie Perkins, Rainbow Rowell, and Gayle Forman's most of all. I love their other works, so that I adored their stories in this book came as no surprise.
This is a quick read--maybe because I was immediately hooked from the very beginning. I could only put it down when my eyes started burning so badly that they watered and distorted my vision. It's a strangely wonderful feeling to be that in love with a book. My only complaint is that the stories ended! There were a few that I think had the makings of full-length novels, and the end of them had me yearning for more. Most were perfect just the way they were (and even then I wanted more just because they were so fantastic). I love the diversity in the stories; some were fantasy, others contemporary, all were utterly enchanting. I loved that I never knew which would come next, and that all of them were so unique, and distinct. No two were alike!
I need to go buy a physical copy immediately and reread this again as the holidays roll around (and probably a few times before then). They really help bring on the holiday spirit! I wish I could buy everyone a copy and make them read it, because it really is just a wonderful bunch of tales. I recommend it wholeheartedly, and hope that those who read it love it as much as I did! This exceeded my expectations, and reminded me why I love the holiday season so much! My True Love Gave to Me is sure to be an instant favorite for anyone who reads it.
P.S. Kudos to whoever designed the US edition's cover because from the moment I saw it, I knew I'd need to own it. I love that all the couples are included on the cover. That makes it even sweeter.
I received an e-copy of this novel for my honest opinion and review from the publisher via Netgalley.