The blurb as seen on
Goodreads
: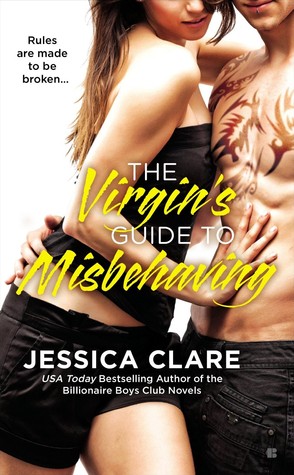 Release Date: June 3, 2014
Publisher: Berkley
304 Pages
Playing innocent is easy.

After being the quiet, shy girl her whole life, Elise Markham is ready for a mental makeover. She's done keeping to herself and staying out of trouble—it's time to break out of her shell and maybe meet someone intriguing in the process. So, on a photography trip to Bluebonnet, she has a whole lot more on her mind than snapping photos, especially when Rome walks into the picture.

Playing dirty is fun.

The newest instructor at Wilderness Survival Expeditions has a colorful past, to say the least. Having come from a family of notorious con artists that destroyed his credit and reputation, all before his eighteenth birthday, Rome just wants a decent job and a quiet life in a town where no one knows his name. He's exactly the kind of bad boy that an innocent girl like Elise should stay far away from.

But Elise is tired of doing what's right. She's ready to throw caution to the wind—and let Rome show her just how exciting being bad can be…
Elise Markham comes from a very sheltered childhood. From a color disfiguration on her face to scoliosis of the spine, she never really fit in, never had a boyfriend or any real friends actually. Her parents and brother treat her like she's glass but Elise wants to prove that she's not breakable.
Enter Rome, the new employee at her brothers company. He's exactly the opposite of everything Elise has ever known and most importantly, he's not safe. There's a mysterious quality about him and he's obviously hiding something, but Elise doesn't care. He's the perfect boy to give her what she needs – a crash course in losing her virginity. Of course, feelings escalate and they both realize that "just sex" is not something that's possible.
Using humor and a small town setting, Clare was able to tell Elise's story in a way that was believable and relatable. Elise's shyness, although a bit extreme, was something that I'm sure a lot of people could understand. I loved how patient Rome was with her and how he slowly brought her out of her shell. He waited until she was comfortable with him and herself before he started anything. Underneath his macho exterior, Rome is actually a nice guy. He has an ugly past that he's running from, but for once, it's not of his doing.
This was my first book from this series so at times I felt as if I was a little behind on the backstories of others, but it wasn't enough to turn me from the story.
If anything, it made me more curious to read the other books. The only characters I wasn't too keen on were Elise's brother and his girlfriend. I get the overprotective brother act, but this was just suffocating. And his girlfriend, I honestly don't see how the two of them were compatible.
Overall, a solid love story with humor thrown. Perfect for summer beach reading.
I received a copy of this novel from the publisher for my honest opinion and review.