The blurb as seen on
Goodreads
: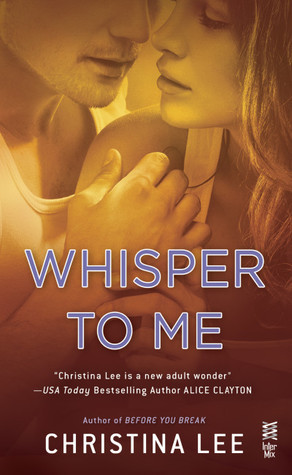 Release Date: May 20, 2014
Publisher: Intermix
262 Pages
A hot and consuming New Adult romance about a wayward musician and the one girl who keeps him grounded…

At college, Rachel has a reputation for being a sarcastic flirt with a thing for star athletes. No one at school knows that she'd had her heart ripped to shreds by her high school sweetheart, who'd driven them both off the side of the road on a borrowed motorcycle, and then abandoned her. No one knows the real Rachel Mattson—except one person…

Ever since he helped nurse his sister's feisty best friend back to health, pierced bass player Kai Nakos has been head over heels in love. But the supposed bad boy can't risk letting Rachel know the truth—especially now that the two of them are back in their hometown for the summer, together for the first time since the months following that fateful night. Never mind that Rachel's ex is back, groveling for her forgiveness.

Shaken by her ex's return, Rachel finds herself turning to the one guy she knows she can trust. Kai is willing to hide his feelings for her, just to have Rachel touch him again. After all, this is only a temporary fling. Until it becomes something more. But maybe it had been more all along.
Now I enjoyed this Christina Lee book much more than I liked the other one that I read, I believe it was the second in this series. Whisper to Me felt more natural with real characters in real situations. If you're going to write contemporary, the situations need to feel like they could happen to you.
Whisper to Me tells the story of Rachel and Kai, two friends whose friendship fell apart but end up finding their way back to each other. Rachel suffered a severe head injury during a motorcycle accident that left her scarred and without a boyfriend. Kai, the older brother of Rachel's best friend, ends up spending his days in the hospital during Rachel's recovery trying to keep her positive but also just enjoying being able to spend time with her. They grow closer but ultimately leave each other out of fear of losing the others friendship. Rachel heads off to college and Kai heads overseas. Then summer comes and they're both home for the first time.
Unlike a lot of NA books out there, I understood Rachel's struggle. She went off to college to get a new start. No one knew her. No one knew her story. She could be anyone she wanted to be. But when she comes home and sees her best friend and her best friends brother, she realizes hiding may be harder than she thought. Her feelings for Kai are confusing, her feelings for her ex who left her after the accident are hurtful, and her relationship with her best friend is strained. I liked reading about Rachel's journey to basically become free from the past that had defined her for so long.
Kai was your typical lost and confused guy who instead of confronting and talking about his feelings, chose to hid in music, drugs, and girls. He was swoonworthy at times and I could definitely see his appeal, but Kai to me was a side character. I was more invested in Rachel growing.
I wasn't sold on this series from the first one I read, but this one sparked my interest and I think I will definitely be checking out the others and giving them a shot.
I received an e-copy of this novel from the publisher via Netgalley in return for an honest review.