The blurb as seen on
Goodreads
: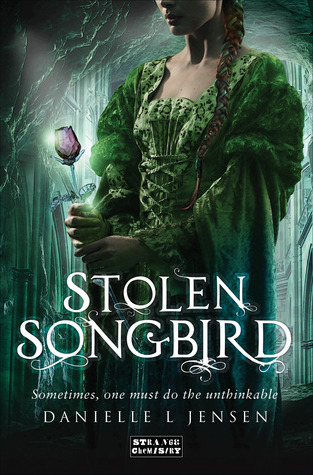 Release Date: April 1, 2014
Publisher: Strange Chemistry
469 Pages
For those who have loved
Seraphina
and
Graceling
comes another truly fabulous fantasy...
For five centuries, a witch's curse has bound the trolls to their city beneath the ruins of Forsaken Mountain. Time enough for their dark and nefarious magic to fade from human memory and into myth. But a prophesy has been spoken of a union with the power to set the trolls free, and when Cécile de Troyes is kidnapped and taken beneath the mountain, she learns there is far more to the myth of the trolls than she could have imagined.
Cécile has only one thing on her mind after she is brought to Trollus: escape. Only the trolls are clever, fast, and inhumanly strong. She will have to bide her time, wait for the perfect opportunity.
But something unexpected happens while she's waiting – she begins to fall for the enigmatic troll prince to whom she has been bonded and married. She begins to make friends. And she begins to see that she may be the only hope for the half-bloods – part troll, part human creatures who are slaves to the full-blooded trolls. There is a rebellion brewing. And her prince, Tristan, the future king, is its secret leader.
As Cécile becomes involved in the intricate political games of Trollus, she becomes more than a farmer's daughter. She becomes a princess, the hope of a people, and a witch with magic powerful enough to change Trollus forever.
I am currently writing this review at four o'clock in the morning after reading Stolen Songbird non-stop for the past two-and-a-half hours. My eyes are bleary; I can't stop yawning, and my phone is almost dead from my excessive use of the Kindle application. To say that I loved Stolen Songbird would be a horrific understatement. It has automatically become one of my favorite books of 2014, and my favorite debut thus far. So would I say that it is worth the lack of sleep, and the exhaustion I will feel tomorrow? Hell yes.
Cécile de Troyes is a young woman, about to journey with her absent mother to the city to pursue her dream of becoming a singer. Before she has the chance, she is kidnapped and taken to the hidden home of the trolls. There she is hoped to be the key to ridding the people of their curse: the one that keeps them trapped beneath the fallen mountain. Against her will, she is bonded to the troll prince, Tristan, but as time passes, she adjusts to life in the darkness, making friends and falling for her husband. But danger awaits her at every turn, and rebellion is coming fast.
Honestly, I did not expect to love this book as much as I did. From the very first page, I was hooked. Setting down my phone to do anything else was not an option. I couldn't even let my eyes leave the page for some sleep. Stolen Songbird was a magnificent surprise! The plot was well-formed, and paced exceptionally. I was never bored nor did the plot ever seem rushed. The length (though daunting at first) was extremely beneficial to the tale. The author was really able to do the story justice, and gave the reader plenty of time to be captivated (thought it really doesn't take long). The world-building was phenomenal, and I had no difficultly losing myself into the world that Jensen created. I was extremely impressed by the tale she wove. This novel presents a creative twist on mythical creatures about which we've heard stories since childhood.
The characters were… perfect. I cannot even think of another way to describe them. I was immediately enamored with Tristan. His sarcasm, wit and devotion to his people was super swoon-worthy. I never thought I could find a troll attractive, but dannnnnng. By the end of the novel, I wanted him all for myself. Cécile was also a well-rounded character. She's stubborn, and rash, and loyal. As the story progresses, so does her character. She grows much in the duration of the story, as does Tristan. Their relationship moves at an honest pace as well. The romance was so well done. It was not petty, and though they are not experienced, it is a pure and honest love. (I keep sighing as I think about it, and thinking "swoon, swoon, swoon.") The minor characters are great additions, and each played an important role in the story. Their friendships, and interactions with Cécile and Tristan did so much for the story; they made it even more engaging. The author did a wonderful job at developing them just as well as the main characters.
Basically, this book was utter perfection. That's pretty much my entire point. Stolen Songbird blew any, and all of my expectations out of the water. I'm so happy that I decided to pick this book up tonight, and will be purchasing a physical copy as soon as I visit a bookstore. If you are reading this review, you should definitely read this book. The only horrible part of Stolen Songbird is that it ends on a cliffhanger, and Hidden Huntress, the sequel, won't be released until next year. How will I survive that long? Who knows. Who. Knows.
I received an e-copy of this novel from the publisher for my honest opinion and review via Netgalley.