The blurb as seen on
Goodreads
:
Release Date: March 4, 2014
Publisher: Loveswept
240 Pages
Jennifer Chance unleashes her hot new series with the tale of a smoldering rocker and the fangirl who catches his eye—and finds herself living out her wildest dreams.

Lacey Dawes is a total pro at the talent agency where she works, and it doesn't hurt that IMO Worldwide Media represents Dante Falcone. The rock god has starred in her fantasies since she was sixteen—and remains her secret crush to this day. So when Dante picks her to be the interim manager on his Dream It tour, Lacey can't believe her luck. Handling Dante is sure to be the most exquisite, spine-tingling, nerve-wracking mix of business and pleasure ever.

Although Dante is grateful for the adoring fans who scream for one more of his full-throttle, soul-searing songs, being surrounded by a cadre of corporate types backstage is wearing thin. Then Lacey shows up. Yeah, she's organized, smart, quick to get him what he wants before he knows he wants it—but Dante senses there's something else going on with sweet, sexy Lacey. One kiss tells him what that "something" might be . . . and makes him hungry for more.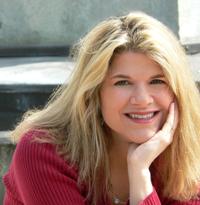 So Dante Falcone. Child star from the Disney channel.
Becomes teen pop idol.
Now is pretty much a superstar.
Basically this book is the author's fangirling fantasy involving Justin Timberlake, because even though Dante looks nothing like JT, look at above evidence. I enjoyed this book probably a lot more than I should have and am pretty sure I'm rating it a lot higher because of that. This book was literally a fangirl teenage dream of mine. What teen girl doesn't want to end up with her celeb crush? Well, Lacey Dawes got to do just that.
Lacey has been in love with Dante Falcone since she first glimpsed him on the Disney Channel. Since then she's followed every move he's made and documented it in countless scrapbooks. Now as an adult, she works for a talent agency that just acquired Falcone. Through a series of very fortunate events, Lacey ends up working closely with the man she's been swooning over for years.
This book was an extremely easy read. I flew through the chapters and was constantly entertained. Lacey was very likeable from the start and, for me, easy to identify with. How would you act if you came face to face with your idol? Dante took a little warming up. He was silent and brooding in the beginning but slowly opened up as the book went on. When he finally lets down his guard and starts teasing Lacey the real fun began.
Was this book believable? No. The situations were completely unrealistic. Do I think that it adds something to the new adult genre? Not really. But it was fun. And every once in a while you just need to read something that's fun. Simple as that.
I received an e-copy of this novel from the publisher via Netgalley in exchange for a honest review.