Today, Emily is happy to be a part of the Angel Eyes Blog Tour
Find the other tour stops
here
.
Angel Eyes (Angel Eyes Trilogy #1) by Shannon Dittemore
Release Date: May 29, 2012
Publisher: Thomas Nelson Fiction
320 Pages
Once you've seen, you can't unsee. Everything changes when you've looked at the world through . . .
ANGEL EYES
Brielle's a ballerina who went to the city to chase her dreams and found tragedy instead. She's come home to shabby little Stratus, Oregon, to live with her grief and her guilt . . . and the incredible, numbing cold she can't seem to shake.
Jake's the new guy at school. The boy next door with burning hands and an unbelievable gift that targets him for corruption.
Something more than fate has brought them together. An evil bigger than both of them lurks in the shadows nearby, hiding in plain sight. Two angels stand guard, unsure what's going to happen. And a beauty brighter than Jake or Brielle has ever seen is calling them to join the battle in a realm where all human choices start.
A realm that only angels and demons—and Brielle—can perceive.
VISIT THE AUTHOR:
FIND THE BOOK:
Angel Eyes was a great book. I grew obsessed with the story very quickly! As soon as I started, I knew I was going to like it.
Of course, my instinct was right. I wanted to read it from the moment I saw the cover. It's so beautiful and mysterious. Plus, it fits in perfectly with the plot and a specific scene in the book. I love when covers are beautiful and make sense in regards to the story.
The storyline in this book was awesome. I don't know what else to say about it. I was immediately captivated by the writing style. The characters were so easy to fall in love with. I connected with Gabrielle, or Brielle as she referred to, very easily. I've never been a dancer, but the book was writing so well, that I could feel Brielle's love for dancing. It made me wish I didn't have two left feet! I've always admired ballerinas, and I'm not sure what it was about Brielle, but her as a ballerina really intrigued me. That sounds so strange, I know, but you'll understand when you read it!
Brielle's father is great. He's there for her when she needs him and tries his best to ensure her happiness. He loves her dearly and didn't abandon her when her mother passed away like many parents in young adult fiction are known to do. Her friends, well the only real friends mentioned in this book are one from the school that she's returned to and one from her talent specified school. Both seem very nice, though the one from her school is a bit annoying at times.
I LOVE JAKE. His backstory is so interesting and his life is just crazy. He's a great match for Brielle. He cares for her deeply. Bonus? No insta-love. There is attraction and acknowledgement of a future together, but they aren't like: "Ooh, I love you so much. Let's get married right now and have a thousand babies because we knew immediately that we were meant to be forever." We all know what I'm talking about. Jake and Brielle's story wasn't like that at all. This book didn't focus on their relationship, though it did have a role in the story.
I haven't read a book about angels that I've really liked until this book. In fact, I loved this book. I've seen a lot of reviews that say people didn't really love it, they just enjoyed it. It wasn't phenomenal. I'll agree there were some issues that should have been edited, and a couple of modern references that seemed out of place in a book like this. Those things did not take away from the book in my opinion. The writing style was slow, but I really enjoyed it. I thought it read perfectly for the characters and the story.
Before reading this, I was a bit nervous. As I said, I haven't read an angel novel that I've enjoyed. I'm not very religious and most angel books seem to shove religion down your throat. I didn't feel that way with this book. It felt more like a paranormal fantasy than a religious novel, which really made me happy. I really, really enjoyed Angel Eyes and I am excited to read book two. I know it will be just as wonderful as the first!
I received a free e-copy of this novel from the publisher through Netgalleyfor a blog tour in exchange for my honest review.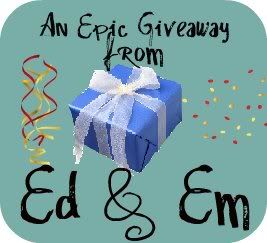 Giveaway Details:
1 Winner will receive an e-copy of Angel Eyes
Open Internationally
End 6/12/2012
a Rafflecopter giveaway